2013 May 10 |
PRESS RELEASE
New Chefs Join Driver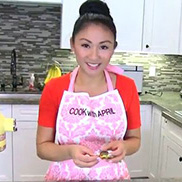 Driver is excited to announce the addition of several new cooking shows to its ranks. Brand new to our network is CookwithApril's April Moore. From an early age, April had an affinity toward cooking and baking. With no formal culinary training beyond Home Economics, she began experimenting with recipes for fun, learning by trial and error and honing her craft. After mastering her favorite staples, April felt compelled to share her tips and tricks with the world via YouTube. April's goal has always been to teach something simple: Anyone can learn how to make delicious food!
Also, joining Driver is iheartrecipes' Rosie Willis. Rosie is a mom that loves to cook and bake. She tries to make all of her recipes easy to follow, and budget friendly for every day people like her. Rosie prides herself on learning to cook from the best: her beloved family members.
For a little spice, we welcome CaribbeanPot's Chris De La Rosa. Born in Trinidad and Tobago, Chris now resides in Hamilton Ontario. With no formal training and a passion for cooking, Chris has been influenced by people who have a few hundred years worth of experience under their collective belts. And lastly, a new celebrity chef has joined us, to be announced in the next few weeks!