2012 April 03 |
PRESS RELEASE
Driver signs Hilah Cooking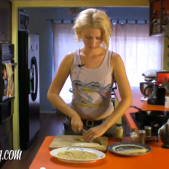 Driver Digital has signed Austin based internet cooking sensation Hilah Johnson of Hilah Cooking, winner of the YouTube Next Chef Competition.
Hilah began creating short-form cooking videos in January 2010 with her partner Christopher Sharpe. In two years, Hilah Cooking has garnered 20,000 subscribers and 2.3 Million views.
On her website and YouTube Channel, Hilah whips up delicious and aesthetically pleasing southern fare, including tacos of many iterations, thirst quenching summer cocktails, eclectic salads, Tex-Mex cuisine, grilled cheese, pies, muffins – the list is too numerous to do justice. What is most accessible, and charming about Hilah cooking, is everything is made from scratch. Her recipes, geared towards the amateur chef, use everyday ingredients and standard kitchen utensils (no Hamburger molds here). Hilah's delivery, in her Texas resonance, combines humor with the succulent and is truly disarming. Every concoction is practicable, and as tasty as it looks.
Hilah's recipes are not limited to her internet channel, but are now available on the Kindle in The Breakfast Taco Book and in Learn To Cook.
Since winning YouTube Next Chef Hilah plans to include on-location episodes, interviews and collaborations with other foodies. Her Chick-Fil-Gay sandwich has also been featured on popular internet news sites ABC News, The Guardian, The New York Daily News, Huffingston Post, Gawker, Creative Loafing, Mashable, The Advocate, and CNN.
Hilah Cooking will keep your mouth watering, and is one to look out for.