2018 October 12 |
PRESS RELEASE
Driver Digital Wins Awards for Cool School and New DreamWorks Series That's The Spirit in 7th Annual Cynopsis Imagination Awards
New York, NY — Driver Digital, a premiere youth entertainment company, wins Best Marketing Campaign for a TV Series, Special or Movie for its DreamWorks companion series That's The Spirit! and Best Preschool Show Exclusively for a Streaming Platform for its YouTube channel Cool School.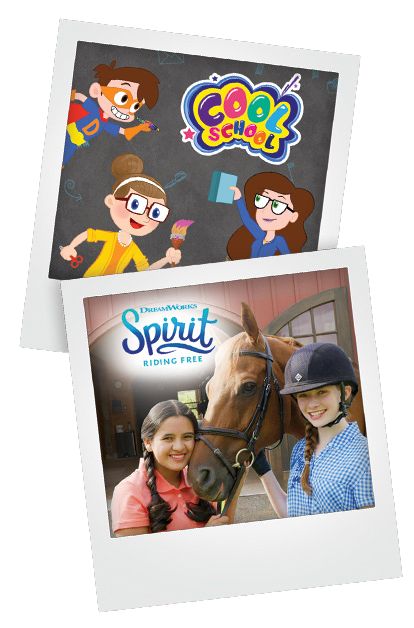 The Cynopsis Imagination Awards honor the best in children's, tween, family programming and marketing. It highlights the most outstanding cross-platform programming and marketing in the highly competitive and dynamic kids media industry.  Winners were recognized at the 7th annual awards event on September 25, 2018 in New York City.
Scott Weitz, founder and CEO of Driver Digital says, "I am extremely proud of our team for their great work on That's the Spirit and special congratulations to our partner DreamWorks and we thank them for putting their trust in us. We are so proud of our beloved Cool School and grateful for the recognition."
"It is a real pleasure working with the team at DreamWorks on That's The Spirit! They are great partners! I am exceedingly proud of our team behind Cool School," says Rob Kurtz, Head of Creative at Driver Digital.  "We set out to make children laugh and imagine a wonderful world of creativity and fun.To be recognized by our peers for a second year in a row that we've done a good job means a great deal to us."  

About Driver Digital
Driver Digital is a premiere Family Entertainment Studio and Network providing outstanding media content across the digital landscape. By creating, producing and distributing quality kids and tween entertainment on YouTube, Driver Digital has become one of the leading "digital first" studios in the demographic. Driver Digital's sister company, DRIVER Media, is an industry-leading production company working for major ad agencies and brands including Coca-Cola, Pepsi, AT&T Microsoft and General Motors.
About DreamWorks Animation Television
DreamWorks Animation Television is one of the world's leading suppliers of high-quality, animated family programming, reaching consumers on linear and on-demand platforms. It is a division of the Universal Filmed Entertainment Group (UFEG).
About Cool School
Cool School is all about kids: inspiring kids, putting kids' imaginations first, creating quality stories and characters that kids can relate to and laugh with. The Cool School mindset is all about fun and imagination.  Cool School provides entertainment that kids love and that their caregivers feel good about.  Once kids are inspired to use their imaginations there's no limit to what can happen.
About the Cynopsis Kids !magination Awards
Cynopsis Kids !magination Awards honor the year's best in children's, tween and family programming and marketing. Recognizing outstanding achievements in content creation across platforms, and the campaigns that promote it, this unique awards program from the industry's most trusted brand, Cynopsis Media, judged by a panel of industry experts. Winners were announced at the 7th annual awards event on September 25, 2018 in New York City.